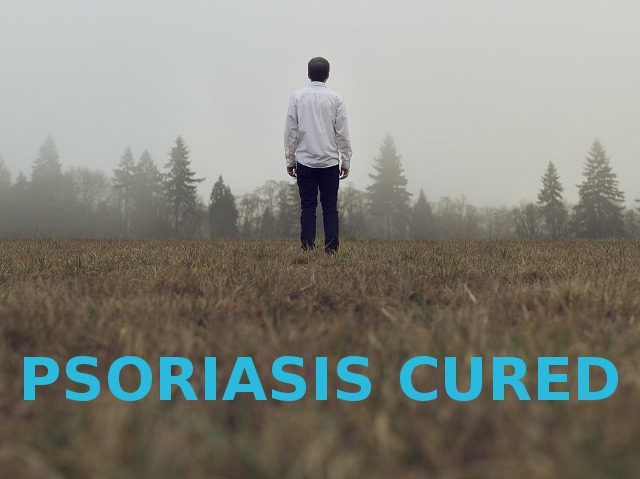 Jeff Cured His Psoriasis
The next lines are from Jeff who cured his psoriasis naturally. Thank you for your story!:
If you are reading this blog, then I'm sure the disease of psoriasis affects you on an intimate level.  I don't have to tell you that this disease has not only a physical component which can be seen, but also a mental and emotional aspect that adds an additional level of anguish to an already torturous condition.
I suffered with progressively worsening psoriasis for years before I finally cleared it completely.  I would like to share my story.
Start and Spread
My psoriasis first manifested in the spring of 2008 at the age of 38.  It was precisely one spot – about the size of a quarter – on my left shin.  As the months progressed, more spots appeared on my shins, elbows, calves, knees, eyebrow, scalp, wrist, and even genitalia.  The lesions were thick with plaque, and ranged from about 3 inches in the worst places, to about the size of a pencil eraser on the smaller end of the scale.  New lesions always began the same way: first, the area of skin would become red and irritated (as if from a bug bite), and then over the course of about 2-3 weeks, the scaling and plaque would form.
By the beginning of 2009 I could no longer wear shorts in public.  By the end of 2011 I could no longer wear short sleeve shirts to work.  I can look back at pictures of myself during those years and pretty much chart the progress of the psoriasis based on how I was dressed. I would go out of my way to avoid mirrors, even when trying on new clothing.  I no longer attended the sauna, hot tub and steam bath with my workout partners.
In the early months, lesions would come and go.  After about a year and a half, they wouldn't 'go', but just continue to get worse.  I used to dread waking up in the morning to check my body for new spots. Every time I had an itch, my heart would sink.  In a strange way, I almost began to disassociate myself from my own skin.
Treatments I Tried
The saga of unsuccessful treatments began with over-the-counter creams, ointments, moisturizers – which had no effect whatsoever.  I then went on referrals from my doctor to a series of Dermatologists and specialists who prescribed topical steroids.  These would reduce the plaque by about 50 percent in two weeks (the maximum time per round of treatment), after which time the scaling would return full force.  These doctors were only too happy to point out that my "only" option at that point was to go on immune-suppressant drugs.  I declined.
I went to Holistic practitioners, Ayurvedic doctors, acupuncturists, and other forms of 'alternative' medicine.  Now instead of cortical steroids, I was using natural salves and creams with ingredients such as coal tar, and neem.  Nothing even made a dent in my condition.  By the fall of 2012 I had tried just about every remedy I could find online.  I cut out the so-called nightshade vegetables such as potatoes and peppers from my diet, I cut out dairy – still no effect whatsoever.  In the privacy of my backyard, I would spend a lot of time in the sun.  I got a nice tan, but it did not help the lesions at all.
I don't even want to calculate how much money I spent in those years chasing a cure.  Another significant expenditure was time.  I spent hours upon hours searching websites, online journals, forums, alternative cure books, etc. trying to gain some sort of insight into this condition.  As you probably know, there was no consensus as to cause or remedy.  I was beginning to think that psoriasis had beaten everyone.  After all, if so many people were trying to cure this disease – surely with all of these resources something would have been found by now.
One More Hope
Early October of 2013, I was engaged in yet another manic all-night online search for insight into this condition.  I came upon the site psoriasisdietplan.com and downloaded the pdf.
I admit that I didn't read all of the detailed science behind John's research.  However, one thing in particular that intrigued me deeply was John's article extolling the effectiveness of Bile Acids.  I ordered a bottle and began taking 1500 mg (one 500 mg caplet with each meal).  Perhaps it was just my hopeless enthusiasm that
From the very same day I began taking the bile acid tablets, my digestion and elimination began to improve dramatically.  No more bloating, acid reflux, or sour stomach after meals.  I even found my appetite leveling out.  After about six weeks on bile acids, I was feeling much better in terms of my overall health.
I even noticed a very slight improvement in the psoriasis lesions.  Instead of thick scaly plaque with bright red skin underneath, the lesions appeared to be 'fading' and the bright red turned more to a dull rust color.  Still, it wasn't the dramatic effect I had anticipated based on John's writing, so I decided to reach out to John himself via email.
John asked me for some personal background on some of my eating habits, recommended I get a dental exam to check for any kind of abscess or infection, and then suggested I add 3 additional supplements.  We exchanged a few more emails, and at his suggestion my daily course of supplements came to include:
Bile Salts (500 mg per meal)
Betaine HCL (1296 mg / 2 capsules per meal)
B12 methylcobalamin (2000 mcg)
B9 – folic acid (800 mcg)
One piece of wisdom in particular from one of John's first emails to me rang in my mind:
"You have to start your methylation cycle. If the methylation is stuck then stomach can't produce stomach acid, pancreas the enzymes, liver the bile acids, thyroid gland the hormones, etc…"
Honestly, this was the first time I had heard anyone link psoriasis – not with a 'skin condition' or 'overactive immune-system' but with blocked methylation. This seemingly radical theory made a lot more sense to me than anything I had heard from my numerous doctors.
The Result
Within 3 months of taking the above course, the psoriasis COMPLETELY cleared.  In a few areas the skin is very slightly discolored, but most of the lesions have vanished and the skin is clear so that you would never know they had been there.
So, after 6 years of progressively worsening psoriasis, successive trips to numerous doctors, dermatologists, and holistic practitioners, thousands of dollars in medicines, and dozens of hours scouring the internet and research journals…
Five emails to John and $50.00 worth of supplements he recommended completely cleared my psoriasis in 90 days.
I have since added Selenium and Forskollin.
I don't know John personally.  I don't even know his last name.  I offered to write this testimonial for his blog purely out of a sense of gratitude to him for being such a dedicated researcher and for his willingness to share and help all of us.
Thank you, John.
Your friend,
Jeff