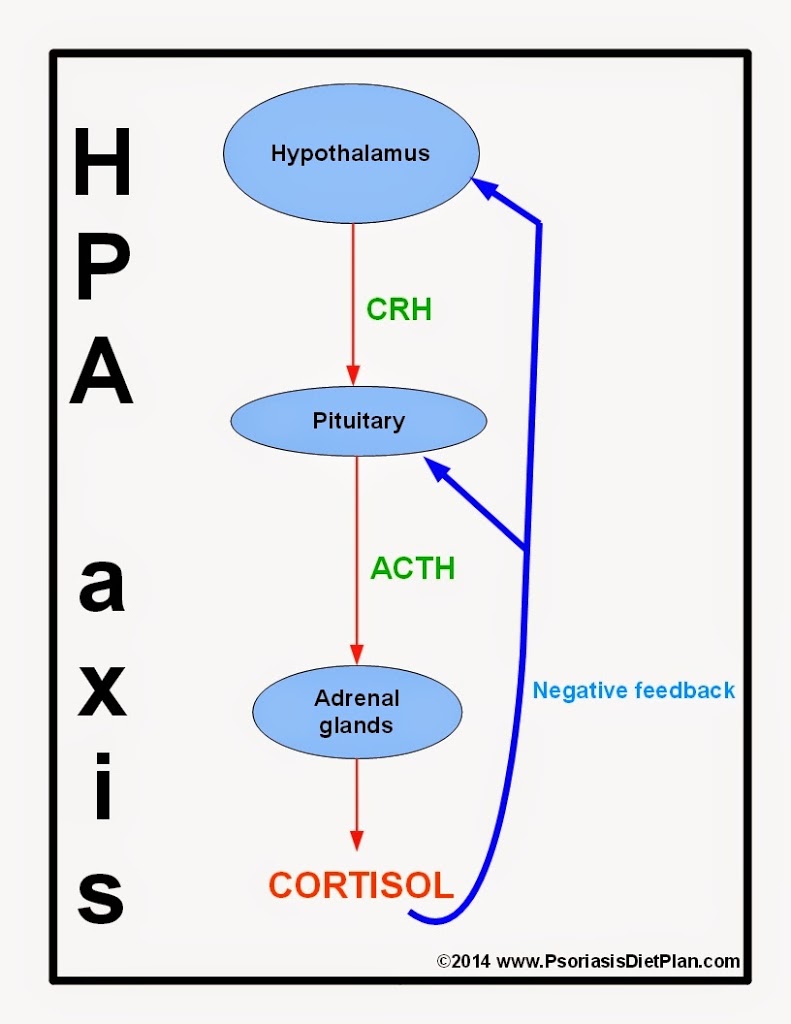 Intestinal Bacteria Increase the Cortisol Production

Adrenal fatigue is supposedly linked to cortisol levels imbalances and measuring the cortisol levels whether in blood or saliva as part of assessing the health status is very popular.
But what causes the cortisol release?
Heavy exercise, infections, trauma or emotional stress, sleep deprivation, calorie restriction, coffee and endotoxins of course.
People usually blame low cortisol levels to "fatigued" adrenals but the truth is that the HPA axis including the adrenals is just dysregulated not fatigued. HPA axis is just a series of biochemical reactions and chemistry can not be "fatigued". Chemistry will work well if there is a balanced amounts of chemicals.
Our genes, nutrition and environment (epigenetics) are responsible for providing the right amounts of chemicals for HPA axis in order to run smoothly and as expected.
High cortisol caused by lipopolysaccharides
Activation of HPA axis by endotoxins is scientifically well documented. The study in 2005 found that endotoxins (LPS – lipopolysaccharides/parts of dead bacteria) cause dose dependent stimulation of cortisol secretion and prostaglandin E2 production by adrenocortical cells. The effects of endotoxins on cortisol release can by attenuated by specific COX-2 inhibitor.[1]
So we're back to inflammation as cause of cortisol release.
Just so you know – COX-2 inhibitors – is a class of drugs which are very popular today – NSAIDs like ibuprofen. Many of them are OTC drugs so people take them in huge amounts regularly even though they cause bleeding, stomach ulcers, heart attacks, strokes; joint, kidney and liver damage.
So endotoxins increase the cortisol production but what is the effects of cortisol (and other glucocorticoids) on subsequent inflammatory pathways?
Cortisol increases the immune reaction to endotoxins
In another study the researchers tested the effects of cortisol on subsequent delayed (1 day later) immune response to bacterial endotoxins. The 36 human volunteers were divided in 3 groups: controls received 6 hour intravenous infusion of saline solution, another group (Cort80) received the cortisol (as hydrocortison) at dose 6.3 mg/hour/70kg, and the last group (Cort160) received high-dose cortisol (as hydrocortison) at 12.6 mg/hour/70kg on day 1.
One day later the participants were intravenously injected the Escherichia coli endotoxin at 2 ng/kg and subsequently the plasma cytokine levels were measured.
In participants from the group received the cortisol at 6.3 mg/hour/kg the levels of (mostly pro-inflammatory) interleukin-6 were significantly increased compared to the control group and the levels of anti-inflammatory interleukin-10 were significantly suppressed.[2]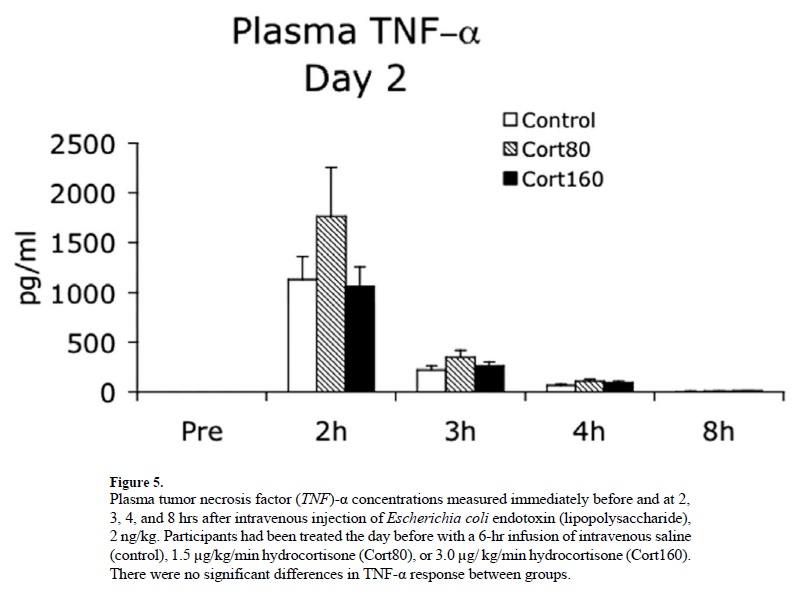 TNF-alpha levels
Image source: Yeager MP, Rassias AJ, Pioli PA, Beach ML, Wardwell