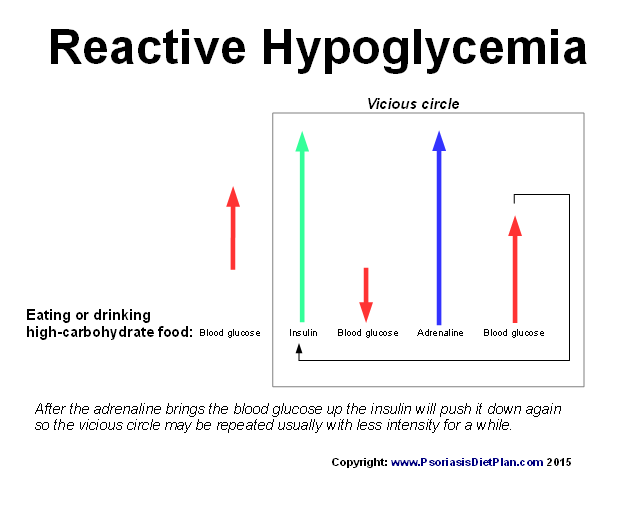 Hypoglycemia Causes Psoriasis, Night Sweating, Peeing, Insomnia and Anxiety
Even though this might be the first time you read about psoriasis being caused by hypoglycemia that does not mean it is not so. Psoriasis is caused by Autonomic Nervous System (ANS) dysfunction and adrenaline overload causes ANS dysfunction.
So, what causes excessive production of adrenaline?
Stress and hypoglycemia (low blood sugar) which is actually a type of stress because low blood sugar is life threatening!
Overview
anxiety is often caused by constant excess of adrenaline
hypoglycemia causes constant adrenaline release
hypoglycemia is very common problem but still doctors consider it as rare
emotional stress must be avoided in order to heal the body
hypoglycemic diet is the best way to heal
whey protein concentrate or isolate before sleep may greatly reduce the hypoglycemia during the night
There are so many people complaining about night sweats and waking up to go to pee. And most of them are almost ultimately without any clue what causes it.
When they go to see a doctor the answer they usually get is "anxiety" and less common answers are infection or even possibly some cancer. The major problem with that answer is that anxiety does not cause night sweats.
It is the hypoglycemia which causes anxiety as well as sweating.
If the doctors prescribe the antidepressants for suspected anxiety which is caused by adrenaline (due to hypoglycemia) the health can go just downhill. It may ease the anxiety but those drugs won't do anything good for the real cause of anxiety and night sweats – for hypoglycemia.
Hypoglycemia symptoms:
hunger (due to low blood sugar)
sleepiness (due to low glucose supply to the brain)
insomnia (due to adrenaline release)
waking up in the middle of the night (due to adrenaline release)
anxiety (constant adrenaline excess)
confusion and nervosity (actually OCD due to excess of adrenaline)
sweating (adrenaline)
anger and irritability (adrenaline)
Only the hunger and sleepiness are the two effects of hypoglycemia which are not directly caused by adrenaline. All the other symptoms of hypoglycemia are directly influenced by adrenaline production.
Reactive hypoglycemia is common
Reactive hypoglycemia is rampant and the natural response to low blood sugar is adrenaline release which brings the blood sugar up. The term "reactive hypoglycemia" describes the blood sugar drop to low levels within 4 hours after high-carbohydrate meal, where symptoms of hypoglycemia are present.
I can not understand how all the medical community pretends that hypoglycemia is a rare disorder? Are they crazy or what? Sure, most people with hypoglycemia never reach the blood glucose levels when they just drop on the floor and swinging their heads from side to side and mumble something. But that is just because the basal blood sugar levels their bodies are used to function are often higher than in normal healthy person (even though still in a reference range so they are not diagnosed as diabetics).
Do not get fooled by readings of blood sugar levels which are in normal range.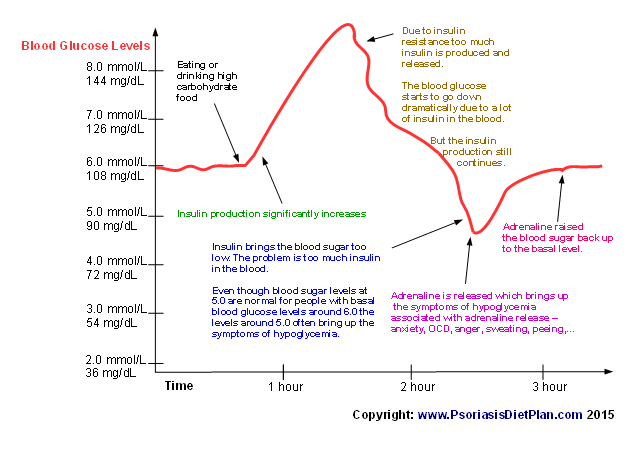 It is common with reactive hypoglycemia that people have (slightly) elevated basal blood sugar levels so the symptoms of hypoglycemia can set on much higher blood glucose levels than in healthy people.
For example if your basal (fasting) blood glucose levels are 5.7 mmol/L (102 mg/dL) or 6.0 mmol/L (108 mg/dL) the symptoms of hypoglycemia can be present at levels of 5.0 mmol/L (90 mg/dL). You don't have to have the blood sugar levels at 3.5 mmol/L (63 mg/dL) when hypoglycemia symptoms arise in healthy people.
Keep in mind that the elevated fasting blood sugar levels have some cause. That cause is mostly insulin resistance which makes impossible for the body to feed the cells with glucose if there is just normal amount of glucose in