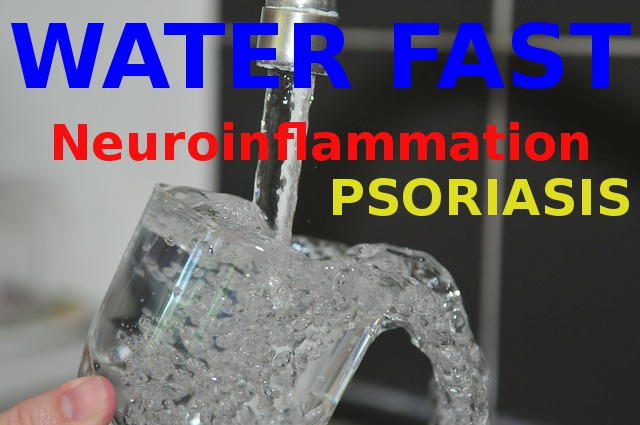 Intermittent Water Fast every other Day for Psoriasis

Nowadays a lot of people with psoriasis are about the water fast – usually a one day water fast once in a while. What I want to present to you in this blog post is intermittent water fast and its possible positive effects on psoriasis.
Good digestion and clean digestive tract – sterile stomach, almost sterile small intestine and colon with good bacteria – are the most important factors for health besides the dental health.
One day water fast may be beneficial short-term that day because you may feel somewhat better with more energy because blood is not drawn into the stomach and intestines in order to digest and assimilate the ingested food.
Intermittent water fast as Psoriasis cure?

I highly doubt that following the water fast like one day a month would have any substantial effect on psoriasis. Suffering liver and nervous system do not regenerate so fast.
I even doubt that long-term fruit juice fast or water fast would have lasting positive effect on psoriasis in most people. Sure, there are some people who cleared up their skin on water fast or juice fast but what matters is if that success lasted when they started eating food – especially starches?
Sadly, for most people eating starches or sugar = psoriasis.
So, is there anything that an occasional one day water fast can do for health?
I don't think so.
One day water fast is too short period of time to eliminate bad bacteria, yeasts and fungi from the digestive tract.
I think that it would be much better to eat something like raw broccoli to help scrap the intestines of mucus rather than drinking just pure water as a way of healing. As a source of fiber you can take also something like Psyllium husks.
That same goes about following the water fast to lose weight. As I wrote in my previous posts I believe that obesity is caused by endotoxins, inflammation and insulin resistance so cleaning up the intestines by eating vegetable with high fiber content would do more good for obesity than just drinking zero calorie pure water.
Cleaning up the intestines and repairing the digestion should be No.1 priority in obesity. Obesity should be considered the same illness as psoriasis! It is not just a matter of how much and what you eat!
Just like psoriasis rarely disappears when you start to eat "better" the same is true for obesity.
If you lose weight and think you are cured of obesity it may not be true! Lost weight or fat does not mean cured obesity.
Intermittent Water fast decreases the neuronal inflammation
There is a study on rats which proved the positive effects of fasting every other day for 30 days.
The scientists concluded that intermittent fasting (IF) when the rats were on water fast every other day for 30 days "prevented LPS-induced elevation of IL-1α, IL-1β and TNF-α levels, and prevented the LPS-induced reduction of BDNF levels in the hippocampus. IF also significantly attenuated LPS-induced elevations of serum IL-1β, IFN-γ, RANTES, TNF-α and IL-6 levels."[1]
"
Taken together, our results suggest that IF induces adaptive responses in the brain and periphery that can suppress inflammation and preserve cognitive function in an animal model of systemic bacterial infection.
"[1]
The above mentioned study is interesting also due to fact that it is directly looking at the connection between LPS (endotoxin) induced neuroinflammation, memory impairment and water fast.
Since psoriasis pathogenesis involves the neuroinflammation which drives the visible disease process we see on the skin everything what may help decrease the inflammatory response to endotoxins is worth to try.
Just keep in mind that water fast is not for everybody – surely not for people with life threatening hypoglycemia! Most people have just "common" hypoglycemia