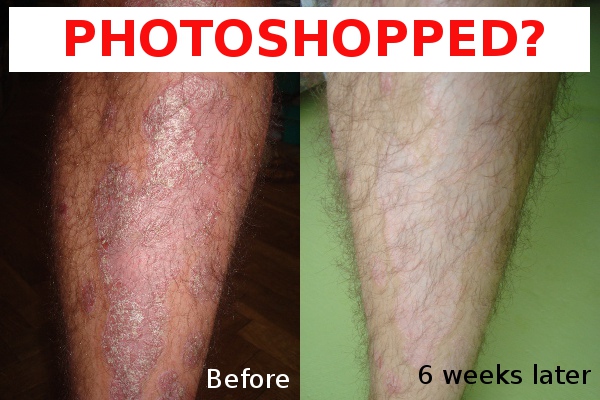 You Didn't Cure Your Psoriasis?

One of the most asked questions I get from you readers is if I am completely free of psoriasis?
This is not the most accurate question; or may I should say that you really do not ask the question you want to know the answer for?
Why that question is not the most accurate?
Because after I answer you might get an idea that everything I write about psoriasis and health on this blog I do daily and that it would or would not work for you.
I am aware of the fact that most people ask this question due to fact that they are (maybe for years) looking for some miracle cure for their psoriasis but it does not work that way. You need to educate yourself then put something into a practice and the recovery will come step by step usually in a few months.
Of course not everything will work for everybody and not everybody need to do everything I mention here on this blog; that is why not everyone including me can benefit from every protocol or supplement.
I am not saying that I know everything or even perhaps anything about psoriasis. Always keep in mind that this blog is for entertainment and informational purposes only!
Despite all this it is not the best possible option to sort the quality of information written by me, based upon the answer if I am or I am not psoriasis free.
It is all about the message not the messenger. And that is why I have been trying to implement this in your mind – you should think about the articles I post here and not to believe them without first thinking about the opinions and facts yourself.
So if I said I am 100% clear of psoriasis you might put a lot of hope and credibility to information presented on this blog. However, if I said I am not cured of psoriasis you might think that the information written here are useless and psoriasis can not be cured no matter what you do.
The information presented by me on this blog are meant as food for your thought. The point is maybe to change your view on some things that I believe are misunderstood by most people or to confirm something you'd think is true.
To know how to get rid of psoriasis is a lot of different than actually get rid of psoriasis because you must put the theory into a practice in order to clear up your skin. So first learn about the theory and then you may want to try to do something. Nobody will tell you "Hey, you must do this and that and you will be psoriasis free in 3 months."
But if you are so stubborn and want to know what I would do if I wanted to clear up psoriasis as fast as possible then here it is…
The next supplements are written in order by most important for psoriasis to less important. All are effective and work together but B-complex, Lecithin and Artichoke are a must (not only) for psoriasis. Liver health and bile flow is the single most important thing (after dental infections and heavily infected root canal teeth) because inflammation is the underlying cause of many symptoms we call diseases.
And inflammation in psoriasis is caused in most cases by endotoxins from overgrown bacteria living in the small intestine when there is a decreased bile flow.
So? No, I am not 100% psoriasis free.
Basic Supplements – the Most Important
B-complex – 1 capsule morning; 1 capsule evening – with meal
Lecithin powder or softgels – 1 tablespoon morning (or 3 softgels); 1 tablespoon evening (or 3 softgels) – with meal
Artichoke