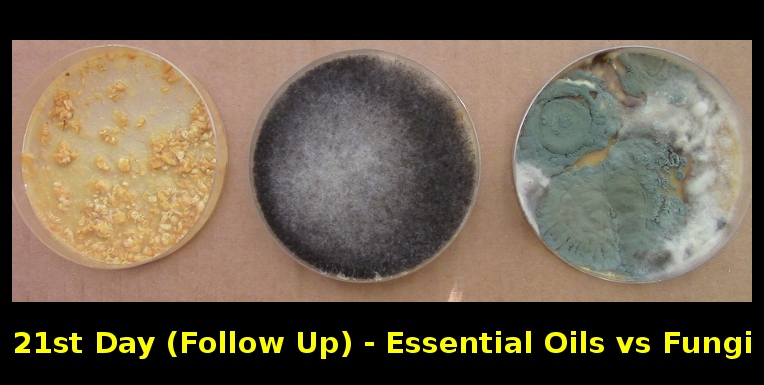 Day 21: Fungus vs Essential Oils – Very Strong Antifungal Activity of One Essential Oil
The featured photo says it all – there is an essential oil which can protect the oats in orange juice from mold for at least 21 days.
This post is a follow up post of the test I performed some time ago and shared the results in my previous blog post.
So if you want to know the details, please read the above mentioned blog post first.
Photos of Test Results
The two essential oils used in this test were the
Cassia (cinnamon) oil and lemongrass oil.
On the 6th day both Petri dishes were mold free when inspected with naked eye.
On the seventh day the white fungi started growing in the Petri dish with lemongrass oil.
Here is the photo of Petri dish with lemongrass oil taken on 8th day. You can clearly see a white fungus growing.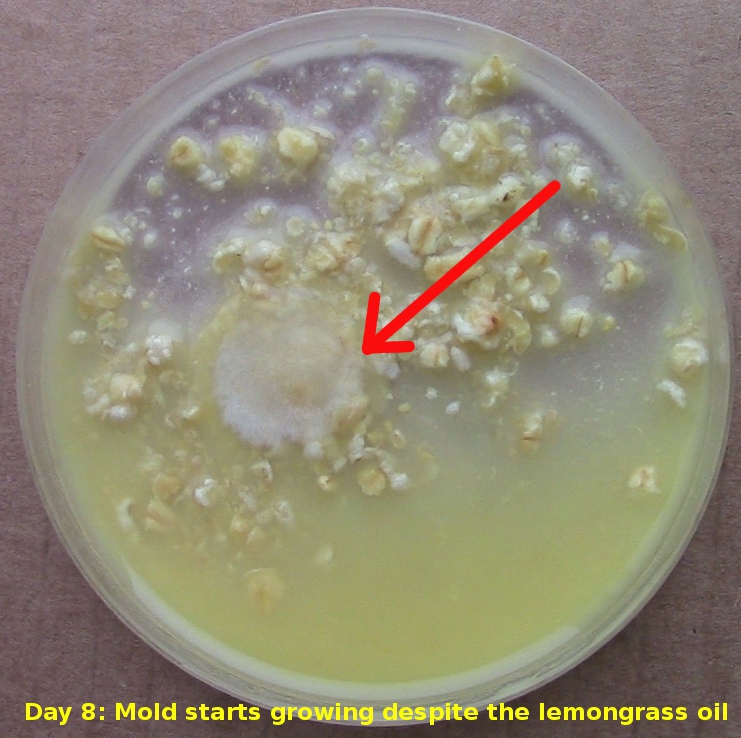 On the other hand the Petri dish with cassia essential oil is still without any signs of fungal growth.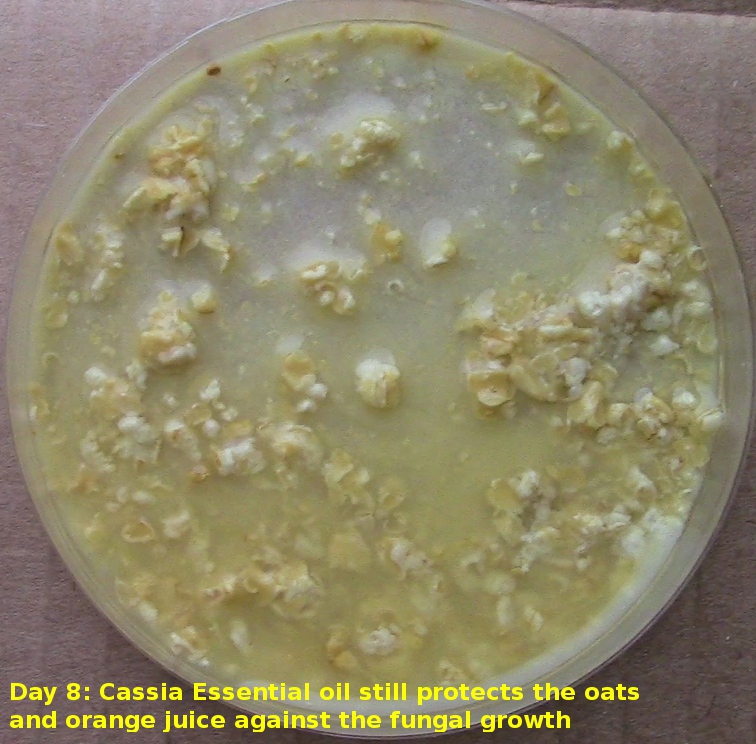 But now let's see how those Petri dishes looked like almost 2 weeks later.
The next picture presents the Petri dish with the lemongrass oil on 21th day of test.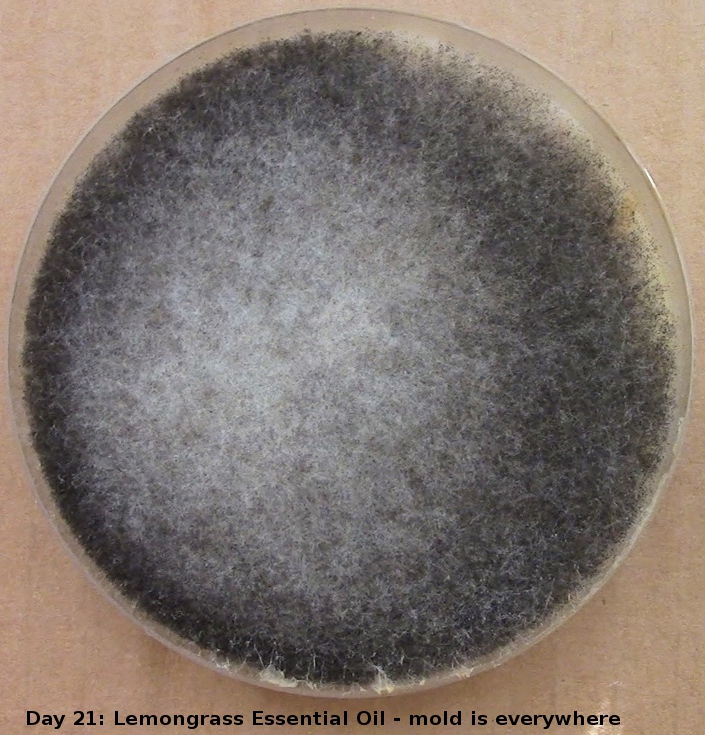 In the another picture you can see the Petri dish with no essential oil (just orange juice and oats) on its 21st day of test. The difference between the Petri dish with lemongrass oil and Petri dish without any oil is clear.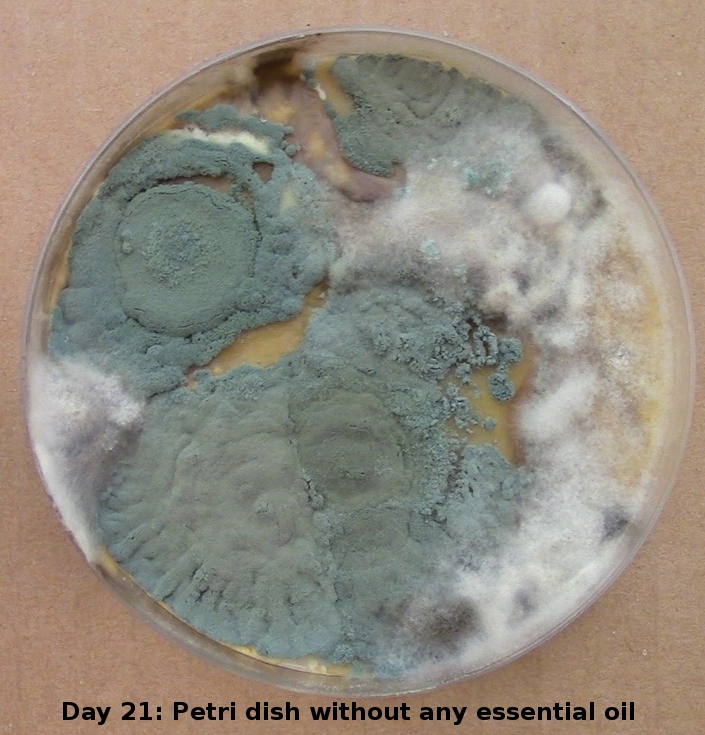 The difference might be caused by the fact that the lemongrass essential oil suppressed some types of fungi so another species could grow more easily. But the difference in fungal growth might be caused also naturally.
However, the most interesting results regarding the anti-fungal properties of essential oils are in the picture below.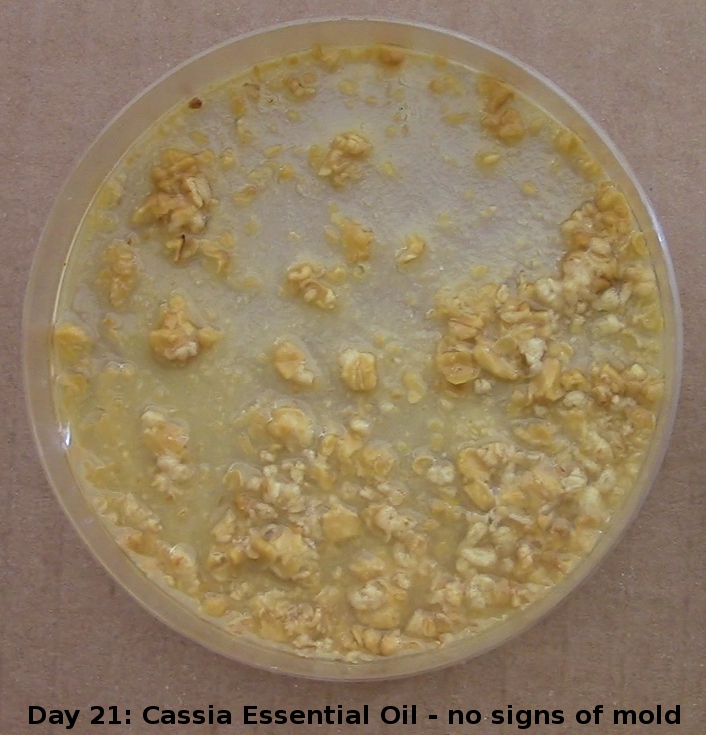 Cassia essential oil inhibited the growth of any potential mold for (at least) 21 days. And I think there won't grow any mold in that Petri dish in the future either.
Conclusion
I think that any natural and relatively very safe anti-fungal solution is greatly appreciated in fight against the stubborn fungal infections.
Cassia essential oil seems like one of the best natural solutions for that purpose I think.
Whether topically applied on ringworm or taken internally for fungal infections of the digestive tract, this essential oil may be very effective.
NOW Lemongrass oil and NOW Cassia oil were used in this test. Those essential oils are not intended for internal use by the vendor but some people take them internally since they are stated as 100% pure on the label.