Fungus vs Essential Oils

Essential oils are one of the best natural antifungals you can get.
In this article I will share with you an experiment of antifungal activities of lemongrass and cassia essential oils.
The results might help you in your fight with infections, digestive issues and chronic inflammatory health problems like psoriasis.
Lemongrass and Cassia Oil As Antifungals
Here are the photos of the test I have performed with the orange juice, oats and two cheap essential oils. By saying cheap I do not mean low-quality rather then low in price. Yes, you do not need fancy essential oils to fight the fungi and yeasts.
This test is not intended to bust or confirm any laboratory results of antifungal effects of various essential oils. Actually, you can find quite a lot studies researching the various species of yeasts and fungi and their ability to resist the essential oils.
This test is just to show you that essential oils really work in real life situations.
So which two essential oils were used in this test?
Cassia (cinnamon) oil and lemongrass oil.
Both cassia oil and lemongrass oil are NOW brand.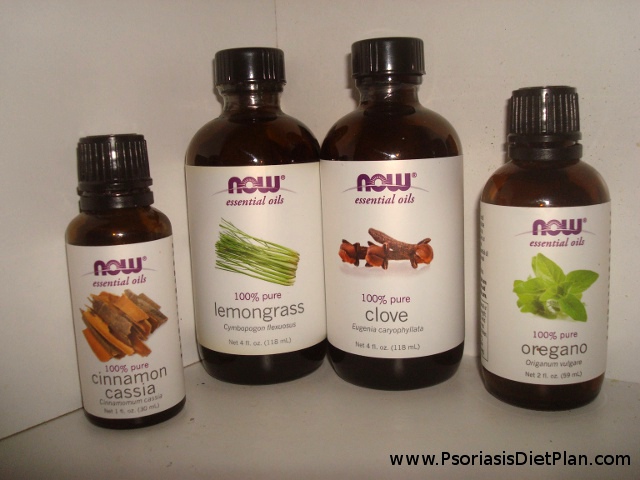 Test details
I put 10 ml of orange juice (made from concentrate, which you can buy in a grocery store) and a little bit of raw oats (porridge) into every one of the 3 Petri dishes.
The only difference in those 3 Petri dishes is that in the first one the cassia oil was mixed with the orange juice prior adding the oats. And in the second Petri dish the lemongrass oil was added to orange juice just before adding the oats.
In both cases only one drop of an essential oil was used.
Also the lids on all three Petri dishes were put on immediately after putting the mix in.
You should know that the fungal spores are everywhere so the longer the Petri dish stays open the more spores get into it which increases the chances of fungal growth.
In the next pictures you can see that after 6 days at room temperature (23°C/73°F) the mold grew in only one Petri dish.
And guess what?
It is the Petri dish with orange juice and oats only, without any essential oil.
You do not have to buy an expensive oregano oil or genuine cinnamon oil to fight off the fungi as you might think.
Actually, some cinnamon oils (made from leaf) may look (biochemically) more like much cheaper clove oil which contains mostly eugenol.[1]
References:
1) Mike Chorlton, Eugene Rees, Chris Phillips, Tim Claypole, Nidhika Berry and Paula Row. Investigation of the Antimicrobial activity of essential oils of culinary and medicinal herbs and spices against selected gastrointestinal pathogens. Swansea University. www.medicine.swansea.ac.uk