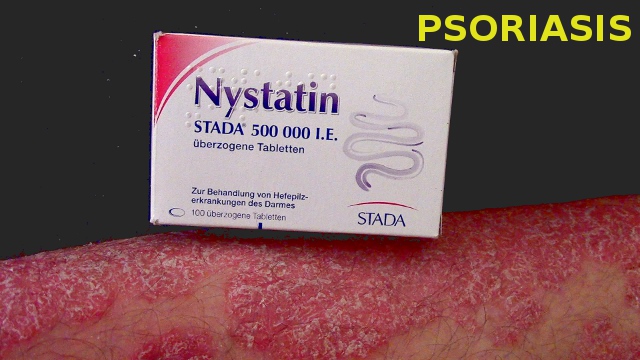 How Nystatin Cures Psoriasis

In this post I would like to support the connection between psoriasis, yeast infections and the fact that it is possible to cure psoriasis with Nystatin or some other antifungal drug.
Nystatin is not the only option for intestinal yeast infection, but the advantage of Nystatin is that it is powerful fungistatic and fungicidal drug with low intestinal absorption.
The fungistatic means that it does not kill the existing yeast cells but interferes with the growth of the new ones, the fungicidal drug also kills the existing cells.
How do Yeast Infections cause Psoriasis?
It is easy – yeasts and fungi – may cause the systemic inflammation.
"
…
my dermatologist had me on Diflucan (which they use for yeast infections) and it worked after the entire month treatment. It didn't come back for 3 months but, even the generic brand is $12.00 per pill and you take 2 per week for 1.5 months.
…
"
by amoremme on June 16th, 2008
Conclusion
Some may say that both Nystatin neither Saccharomyces boulardii are not effective in most cases of psoriasis so Candida or fungi are not the cause of most cases of psoriasis.
I agree that intestinal yeast or fungal infections are not the only cause and maybe even not the major cause of psoriasis.
The inflammation is the cause and it does not matter what causes that inflammation – emotional stress (hormonal imbalances), heavy metals, drugs, deficiencies, Candida or endotoxins.
The fact is that neither endotoxin levels or sensitivity to endotoxins is increased in very most cases of chronic diseases.
Maybe low cortisol or cortisol resistance causes the huge inflammatory reaction due to presence of (normal) amount of endotoxins, maybe it is a B-vitamin deficiency, maybe it is the Candida albicans causing the food sensitivity (inflammation is the result) and maybe it is some drug you take.
References:
1) N Yamaguchi, R Sugita, A Miki, N Takemura, J Kawabata, J Watanabe, and K Sonoyama. Gastrointestinal Candida colonisation promotes sensitisation against food antigens by affecting the mucosal barrier in mice. Gut. 2006 Jul; 55(7): 954–960.
2) HENRY D. ISENBERG, JONA ALLERHAND & JAMES I. BERKMAN. An Endotoxin-like Fraction extracted from the Cells of Candida albicans. Nature 197, 516 – 517 (02 February 1963)
3) Waldman A, Gilhar A, Duek L, Berdicevsky I. Incidence of Candida in psoriasis–a study on the fungal flora of psoriatic patients. Mycoses. 2001 May;44(3-4):77-81.
4) Demirel G, Celik IH, Erdeve O, Saygan S, Dilmen U, Canpolat FE. Prophylactic Saccharomyces boulardii versus nystatin for the prevention of fungal colonization and invasive fungal infection in premature infants. Eur J Pediatr. 2013 Oct;172(10):1321-6.
5) Oncel MY, Arayici S, Sari FN, Simsek GK, Yurttutan S, Erdeve O, Saygan S, Uras N, Oguz SS, Dilmen U. Comparison of Lactobacillus reuteri and nystatin prophylaxis on Candida colonization and infection in very low birth weight infants. J Matern Fetal Neonatal Med. 2015;28(15):1790-4.