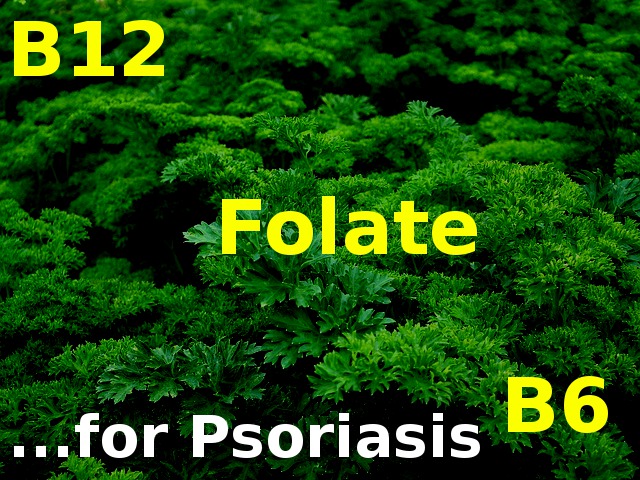 If Bile Acids Don't Work Add the Methylation Supplements – B12 and Folic Acid

Note: B12, folic acid and choline (soy lecithin) dramatically improve psoriasis in many people in 2 weeks!
As I am always trying to highlight – psoriasis (like other developed chronic diseases) is just toxicity or deficiency – so if you take bile acids and your psoriasis is always the same then you probably have some another source of toxicity (root canal teeth or severe tooth decay) or deficiency (like B vitamins which are HEAVILY involved in detoxification, energy production, every organ function, DNA synthesis …).
The daily dose of 3 x 500mg of bile acids is enough. If the psoriasis stays same for 2 months then the problem is probably also elsewhere – it is important to support the methylation cycle (homocysteine reduction, glutathione production,…) which is slowed in virtually every chronic disease. If the methylation is stuck then stomach can't produce stomach acid, pancreas the enzymes, liver the bile acids, thyroid gland the hormones, brain its neurotransmitters, bone marrow the immune cells, etc… and the cells in whole body can't detoxify themselves what leads to huge oxidative stress-> psoriasis.
So along with bile acids I would take (you have link to all those supplements on the left side of this blog):
B12 (methylcobalamin) – http://www.iherb.com/Now-Foods-Methyl-B-12-1000-mcg-100-Lozenges/449
B9 – folic acid (active form like Quatrefolic) – http://www.iherb.com/Doctor-s-Best-Best-Folate-Fully-Active-Featuring-Quatrefolic-400-mcg-90-Veggie-Caps/38067
B-complex (this one also contains the active form of B12-methylcobalamin and B9-folic acid as Quatrefolic) – http://www.iherb.com/Jarrow-Formulas-B-Right-100-Capsules/110
Choline (from soy lecithin) – http://www.iherb.com/Life-Extension-Lecithin-16-oz-454-g/4070
Additional antioxidant like vitamin C is helpful and be sure to have adequate intake of active vitamin A (not just beta-carotene), magnesium, zinc and selenium. Supplementing the stomach acid with Betaine HCL is great since not just you help to digest food and kills the pathogens in the stomach, but also supporting the methylation cycle with Betaine – TMG (trimethylglycine) after the HCL from the Betaine HCL is released.
If you are not familiar with the methylation cycle and what it is all about then you should check this about 25 minutes long overview of the basic principles:
Methylation Made Easy
Also I highly recommend to watch this talk by Rich Van Konynenburg:
http://vimeo.com/36511892
http://vimeo.com/36727242
http://vimeo.com/30129653
This researcher explains how the methylation cycle block will negatively affect a lot of parts of the body. In his theory (which I believe is very accurate) the body can not restart its systems due to lack of vitamins B12, B9 – folic acid, etc… what leads to vicious circle full of oxidative stress. This results to progressively more and more oxidative stress -> more damage -> continual worsening of the health.
Mr. Rich Van Konynenburg has many great posts on this forum about the CFS/ME – http://forums.phoenixrising.me/index.php?forums/detox-methylation-b12-glutathione-chelation.6/
And here is his thread on methylation cycle protocol – http://forums.phoenixrising.me/index.php?threads/revised-simplified-methylation-protocol-august-25-2012-revision.19050/
Sadly Mr. Rich Van Konynenburg died in 2012.
How much B12, folic acid and choline?
I would say that 400 mcg per day of active folic acid – Quatrefolic or Metafolin – is enough to see an improvement (if the deficiency of active form of folic acid is the culprit for you).