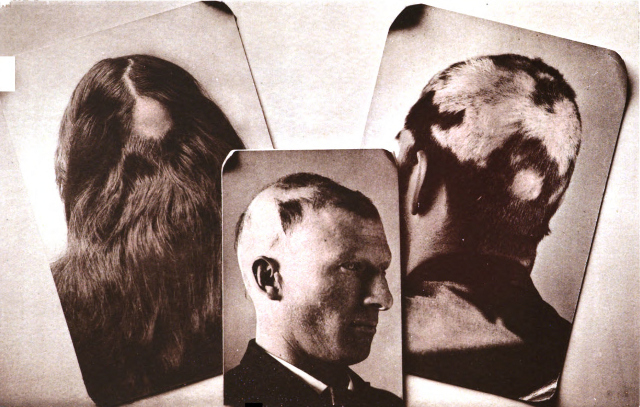 Hair Loss Causes in Psoriasis

* Featured Image source: Fox, George Henry (1886) Photographic illustrations of skin diseases (2nd ed.)
If you experience hair loss with your scalp psoriasis there may be actually 4 different causes:
1. Hair loss is not directly caused by psoriasis
2. Hair loss directly caused by damaged hair follicles – caused by psoriasis
3. Hair loss is caused by some disease like alopecia areata
4. Psoriasis drugs cause hair loss
1. Hair loss is not directly caused by psoriasis
In this case the hair loss may not be directly connected to psoriasis. It may be caused by hormonal imbalance, malnutrition, bad blood flow in the scalp, etc…
A lot of men suffer from this type of hair loss.
Even though there may be genetic cause of this in most cases it is just another symptom of our health crisis. Since hair loss is not deadly we consider this health symptom generally as "it happens". But actually it happens for some reason and in many cases that reason can be addressed and hair growth restored.
There are many herbal products which improve hair growth so hair loss is something what can be reversed and healed.
When trying to reverse hair loss we should pinpoint the cause. Well, I would start with the nutrition. Genes of cells responsible for hair growth are naturally set to grow new hair, so why they don't do that?
Nutrition is the first answer that comes up to my mind immediately.
Then we may focus on improving the blood flow into the scalp area. This should take care of bringing the nutrients in and removing the wastes out.
2. Hair loss caused by damaged hair follicles – due to psoriasis
This type of hair loss is directly caused by psoriasis. Actually, since I believe that psoriasis is fungal infection of the skin; I must say that in my opinion the fungi grow so deep into the skin that the hair follicles get damaged and the hair loss occurs.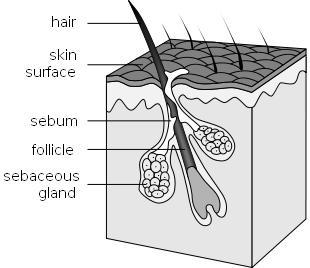 Most people with psoriasis have normal hair and don't suffer with noticeable hair loss but everyone is different and some people may have their hair roots not so deep in the skin and they may suffer from psoriasis (fungal infection) caused hair loss.
The mean depth of scalp hair follicle is 4.16mm.[1] In most cases it is enough to keep the epidermal fungal infection (psoriasis) from reaching the hair root. However, those who may have really serious cases of psoriasis on their scalps and their hair roots are not deep enough, they may suffer from psoriasis related hair loss.
3. Hair loss caused by fungal infection – broken off hair
This type of hair loss is not even a real hair loss. The disease is called Tinea capitis and is caused by fungal infection of the hair shaft which makes the hair to break off.
So the hair roots are not damaged and the hair didn't fall off but the visible hair shaft gets damaged by fungal growth to the point the hair loose its strength and structure and break off eventually.
This type