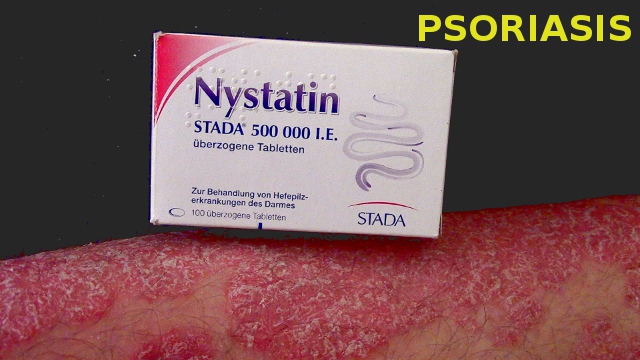 How Nystatin Cures Psoriasis

In this post I would like to support the connection between psoriasis, yeast infections and the fact that it is possible to cure psoriasis with Nystatin or some other antifungal drug.
Nystatin is not the only option for intestinal yeast infection, but the advantage of Nystatin is that it is powerful fungistatic and fungicidal drug with low intestinal absorption.
The fungistatic means that it does not kill the existing yeast cells but interferes with the growth of the new ones, the fungicidal drug also kills the existing cells.
How do Yeast Infections cause Psoriasis?
It is easy – yeasts and fungi – may cause the systemic inflammation.
The mice study suggested "that gastrointestinal Candida colonisation promotes sensitisation against food antigens, at least partly due to mast cell mediated hyperpermeability in the gastrointestinal mucosa of mice."[1]
In other words this means that if you have a Candida overgrowth in your intestines your body and immune system will be more sensitive to foreign protein like that from food.
This may explain why some people cleared up their psoriasis after they went on gluten-free or dairy-free diets.
The scientists in the 1960's suggested that even the cells of Candida albicans themselves contain some endotoxin-like material.[2]
In psoriatics there is statistically higher prevalence of Candida albicans (and other Candida species) infections when compared to healthy population. There was one study done on 50 patients with psoriasis and 50 healthy people.[3]
Psoriatics:
Candida in saliva – 78%
Candida in faeces – 72%
Healthy people:
Candida in saliva – 50%
Candida in faeces – 46%
Data source: Waldman A, Gilhar A, Duek L, Berdicevsky I. Incidence of Candida in psoriasis–a study on the fungal flora of psoriatic patients. Mycoses. 2001 May;44(3-4):77-81.
"
Qualitative analysis revealed a predominance of Candida albicans (saliva, 77%; faeces, 64%) and Candida rugosa (saliva, 28%; faeces, 28%). We did not find a correlation between the severity of the psoriasis according to the Psoriasis Area and Severity Index and the amount of Candida in the saliva or in the faeces. Our results reinforce the hypothesis that C. albicans is one of the triggers to both exacerbation and persistence of psoriasis. We propose that in psoriatics with a significant quantity of Candida in faeces, an antifungal treatment should be considered as an adjuvant treatment of psoriasis.
" [3]
Nystatin vs Saccharomyces boulardii
Even though Nystatin is an over-the-counter drug in some countries it might be easier for you to get the probiotic yeast – Saccharomyces boulardii.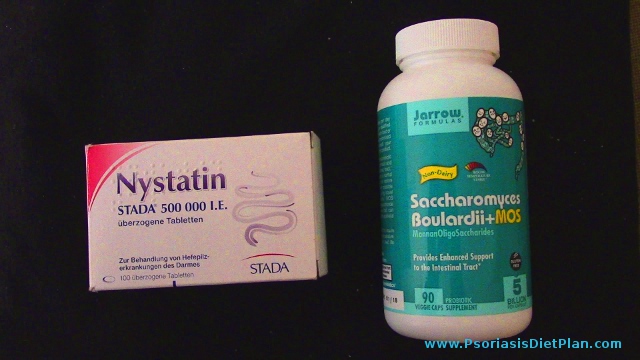 The study "Prophylactic Saccharomyces boulardii versus nystatin for the prevention of fungal colonization and invasive fungal infection in premature infants" concluded Saccharomyces boulardii to be "as effective as nystatin in reducing fungal colonization and invasive fungal infection, more effective in reducing the incidence of clinical sepsis and number of sepsis attacks and has favorable effect on feeding intolerance." [4]
"
Feeding intolerance, clinical sepsis, and number of sepsis attacks were significantly lower in the probiotics group than in the nystatin group.
" [4]
The similar study conducted by the same authors concluded the positive effects of probiotic bacteria L. reuteri.
"
Proven sepsis, feeding intolerance, and duration of hospitalization were significantly lower in the probiotics group than in the antifungal group.
…
Prophylactic L. reuteri supplementation is as effective as nystatin, and more effective in reducing the incidence of proven sepsis in addition to its favorable effect on feeding intolerance.
" [5]
Actually, I would guess that many other strains and species of probiotic bacteria would work as well.
Moreover, most probiotics contain the Lactobacillus reuteri in combination with other species of probiotic bacteria.
But if you know about any supplement containing just L. reuteri, please share the information in the comments below.
Psoriasis cleared up on anti-fungals
Here I present